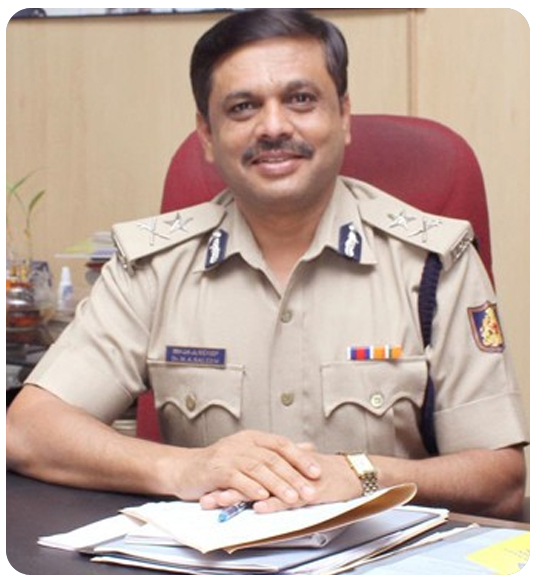 Dear Bengalureans,
Few cities in the world has power to attract and motivate a casual visitor to move there permanently. Bengaluru is one of the rare cities that make people who are new to the city call themselves proud Bengalureans. The city evolved as a garden city of the country due to salubrious climate, has a population of approximately 13.2 million. The geographical coverage of the city is 1051 Kms with 14000 Kms of road network and nearly 44000 intersections.
The economic development of the city has led to a phenomenal growth in vehicular traffic. Today we have 110 million vehicles registered in the city, 72% of which are 2 wheelers. The increasing growth of population and vehicles together with the sprawling size of the city are sure indicators of the growing economic prosperity of the Bengaluru. At the same time due to continuous time lag in the provision of adequate transport infrastructure, there are some areas of congestion and longer journey time.
Bengaluru Traffic Police (BTP) looks after the regulation, enforcement and road safety aspects of traffic management in the city. Traffic policemen on the road are working hard to ensure reduction in the traffic congestion and journey time.
BTP is on the threshold of major technological break through to manage the congestion and cavas on the roads in an efficient manner. To manage the traffic efficiently and scientifically within the available human resources, Traffic Management Centre (TMC) has been established. This state of the art TMC receives live video coverage from all the major junctions using surveillance cameras and traffic signal violations from 50 locations where artificial intelligence enabled cameras and Automatic Number Plate Recognitions (ANPR) system enforcement cameras are installed. All the 353 traffic signals are linked to this TMC through leased lines to be managed effectively by the experts. For peak hour management, 12 corridors have been identified which are integrated into extended desktop formations. It is used to disseminate traffic situation including roadblocks, diversions along with reasons and alternative suggestion live through various FM radio channels. Adaptive traffic control system (ATCS) is a traffic management strategy in which traffic signal timing changes, or adapts, based on actual traffic demand. This is accomplished using an adaptive traffic control system consisting of both hardware and software.
ITMS (Intelligent Traffic Management System)
An advanced traffic management system (ITMS) is a context-aware solution that relies on real-time data from connected road infrastructure and predictive analytics to effectively co-ordinate traffic across city arteries. An intelligent traffic management system provides an advantage by offering safe public transportation, strict punishments for violating traffic rules, ticketing system automation, etc. And advanced solutions for solving traffic congestion in major cities around the world.
Bengaluru Traffic Police faces with humongous IT systems and networking requirements, has strategically planned its centralized supporting IT infrastructure. It has created a state-of-the-art server room distinctly separated from the telecommunication facility, well locked off using access control facilities.
To augment human resources for traffic management a new South Division headed by an officer of the rank of Dy. Commissioner of Police has been created. A part from this 2 new traffic sub-divisions namely Vijaynagar and HSR Layout have been established and are headed by ACP rank officers. 4 new traffic police stations at Belandur, Mahadevapura, Hennur and Thalghatpura were innaugurated recently to cover larger areas of the city and improve traffic flow. 800 strong traffic warden organisation, a voluntary citizens group too helps the traffic police in regulation and enforcement.
BTP has several people centric initiatives and interacts with other stake holding agencies to ensure smooth and safe movement of traffic we encourage public to interact with traffic officers during citizen traffic forum which is held on every second Saturday to address the traffic related issues.
With this, we hope to co-opt net-saavy citizens who feel inclined to use our services and also contribute towards common goal.
I wish you all the best. Happy surfing....
Best Wishes,
Dr.M A Saleem, IPS,
Special Commissioner of Police,
Traffic, Bengaluru City.