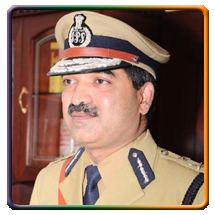 Dear Bengalureans,
Unprecedented growth of Bengaluru City, as a result of proliferations of education institutions, IT/BT companies creating immense job opportunities and globalization coupled with pleasant weather has put tremendous pressure on transportation and traffic management. In-adequate infrastructure and inter mode public transport system has further aggravated the traffic scenario. The result is that today more than 72 lakh vehicles ply in the city whereas it is difficult to handle even half of it.
All this has put tremendous pressure on traffic management, regulation and enforcement, since the traffic police are the most visible face of traffic management.
Bengaluru City traffic police has initiated a unique programme called B-Trac 2010, which aims at managing the traffic in optimum manner within the resources i.e. infrastructure and transportation system as available at present. B-Trac envisages a paradigm shift from finding traffic policing solutions to traffic management solutions; use of preponderance of private modes to focus on public transport; supply management as well as demand management and manual operations to technology driven initiative.The major components of B-Trac include junction improvement, intelligent transport system, surveillance and enforcement system, installation of street furniture and spreading awareness and education about traffic rules. Another important feature of B-Trac programme to focus on capacity building of human resources with in the traffic management.
While focusing on technology driven macro level planning, we cannot undermine the importance of local area plans based on involvement and feed back of common citizens through local traffic management committees.
The Traffic Police has been gearing to meet various challenges. On one hand efforts are on to increase the man power, acquire new equipments and vehicles. While on the other hand upgrading the skills of existing manpower through various refresher and behaviour sensitization courses as our top priority.
I assure the citizens that, traffic police will leave no stone unturned in discharging our duties to meet the growing expectations and challenges.
Best Wishes,
Sri C.H.Pratap Reddy, IPS,
Commissioner of Police, Bengaluru City