Bengaluru's road network is primarily radial and converging at the centre leading to unwarranted entry of traffic to the centre.
(a)Ring Roads are inadequate and need more flyovers
(b) Arterial Roads are congested.
(c) Sub-arterial Roads are congested and have parking pressure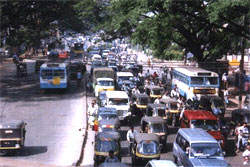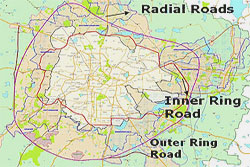 Bengaluru City Has:-
(a)1000 Sq. Kms of area
(b) 4500 Kms of Road
(c) 40,000 Intersections
(d) 330 Signalized Intersections
(d)600 Manned Intersections
The public modes of transport, mainly the buses, are vying for road space and have to compete with other modes of vehicles like autos, two wheelers, cars etc. With litter addition to the infrastructure, it is becoming more & more challenging to manage the congestion levels.
The public modes of In order to address these long standing issues the city police have envisaged the Bengaluru Traffic Improvement Project B-TRAC 2010.