A large number of projects by various agencies like BMRCL, BDA, BBMP, Railways and NHAI are currently in progress, which will help in easing traffic congestion in long term. These projects include both the aspects of traffic congestion i.e. creation of efficient transportation system and addition / improvement of road infrastructure. It is worthwhile to highlight here that all these ongoing works will be adding to traffic congestion and it will continue to do so till completion. In fact with the initiation of Metro work and seamless travel plan Outer Ring Road, traffic woes and jams are going to be aggravated for next two years before the benefits are experienced by public in long term.
Traffic Police is working in close co-ordination with all civic agencies for creating effective Traffic Management plans which could minimize the misery of common public to the extent best possible.
Following is the list of ongoing projects that will continue to contribute to traffic congestion in short term but provide sustainable relief in long term.
A) Bengaluru Metro Rail Corporation Limited
The "Reach One" between Byappanahalli and M.G.Road is completed. Work has been started simultaneously on Reach two, Reach three and Reach four from November 2008 and from March 2009 work has started on the Underground Segment between Minks Square near CTO and Majestic through Dr. Ambedkar Veedhi in front of Vidhana Soudha. All these works will create massive traffic disruption and inconvenience to the public until it is completed.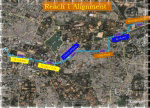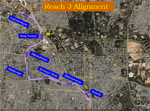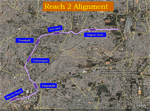 B) Bengaluru Development Authority (BDA)
B) Bengaluru Development Authority (BDA)
Details of Grade Separators Flyovers / Under pass works takenup by BDA
Grade Separators / Flyovers Completed
1. Grade Separator at the Junction of ORR and Bellary Road near Hebbal
2. Fly over-Bennigana hally
3. Fly over-White Field Road
4. Grade Separator at the Junction of ORR and Bannerghatta Road (Mico lay out Junction)-Jayadeva Grade Separator
5. Fly over at Central Silk Board Junction
6. Grade Separator at Dairy Circle
7. Grade Separator at Ananda Rao Circle
8. Fly over at the Junction of Airport Road and Intermediate Ring Road(IRR)
9. Along ORR at Agara Junction
10. Along ORR at Iblur
11. Along ORR at the junction of ORR & Magdi Road(Sumanahalli)
12. M.C.Layout Junction, Vijayanagar
13. Nayandahalli
14. Chord Road
15. HSR Layout
16. Bellandur
17. Devarabeesanahalli
18. Kadabeesanahalli
UNDERPASSES COMPLETED AND OPENED FOR TRAFFIC
* Underpass along ORR near Ramamurthy Nagar.
* Underpass at the Junction of Chord Road & Magadi Road
FOBs / RUB
1. Construction of ROB for Bengaluru-Salem Railway line-work is in Progress.
2. Construction of Underpass along ORR for Bengaluru-Mysore Railway line-work to be taken up by Railways.
3. ORR & approach work is in progress

Flyovers in progress
BDA has taken a land mark initiative to ensure seamless connectivity between Silk Board and Hebbal Flyovers. Some of the on going projects are :
1. Kadabeesanahalli
2. Madadevapura
3. Kalyananagar
4. Hennur
5. Veerannapalya
These works will slowdown the mobility between Silk Board and Hebbal Flyover and between journey international airport for a period of at least 18 months.
In addition BDA had initiated steps for the construction of peripheral ring road.
C) Bruhat Bengaluru Mahanagara Palike (BBMP)
BBMP has taken up large number of projects of which following are important from the traffic point of view:
(a) Puttanahalli Junction.
(b) Kadirenahalli Junction
(c) Yeshwanthapura Grade Separator.
(d) Prof. C.N. Rao Junction
(e) Nagavara Junction
(f) Tagore Circle
(g) K.R.Road
(h) Gali Anjaneya Temple Junction
Pedestrian Sub-ways:
(a) City Market
(b) Vijayanagar
(c) Forum Mall
(d) Garuda Mall
(e) Ragigudda Temple
(f) Basaveshwara Circle
(g) Nagavara Junction
In addition to grade separators following road widening projects have been taken up:
(a) Bellary Road - 7.6 km
(b) Race course Road - 1.66 km
(c) Hosur Road to Jayanagar "T" block - 2.05 km
(d) Sarjapura Main Road - 2.89 km
(e) Nagarabhavi Main Road - 6.6 km
(f) Madiwala - 1.08 km
(g) Bull Temple Road - 5.49 km
(h) Sevashrama Road - 1.25 km
(i) Shamapura - 3.03 km
(j) Tannery Road - 7.78 km
(k) Palace Road -1.75 km
(l) Hosur Road - 1.60 km
(m) Hosur Lashkar - 4.30 km
(n) Sheshadri Road - 0.5 km
(o) Indiranagara 100 ft Road - 2.60 km
(p) Kasturba Road - 0.77 km
(q) Koramangala 100 ft Road Road - 2.50 km
(r) Kaggadassapura Road - 5.17 km
(s) S.T.Bed Road - 6 km

All these activities will cause disruption to traffic until complete.
D) National Highway Authority of India (NHAI):
Following long term projects have caused total considerable displacement and disruption of traffic:
(a) Elevated road between Peenya and Yeshwanthpur.
(b) Elevate road between Electronic City and Silk Board.
E)Short term improvement plan (STIP) for Old Madras Road(OMR) and Outer Ring Road (ORR) url below: